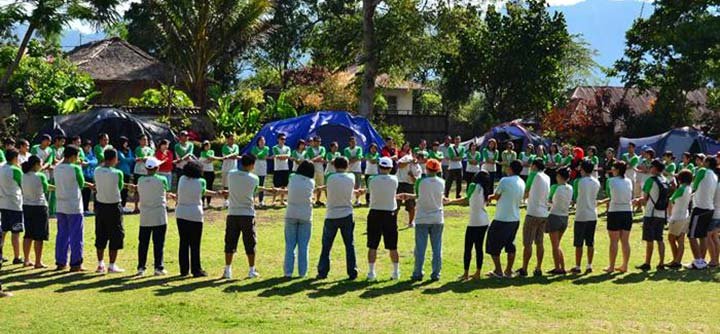 Bali Event Travel ready to be your creative partner for your corporate outing and have design some unique team building program for indoor and outdoor.
By experiencing the exotic sights and sounds, auras and aromas, taste and texture , power and mystique of Baliís life, many people will learning the harmony of Bali.
With the concepts of interaction between participants , the nature and culture of the simulation center is believed to provide a conducive atmosphere to form attitudes, improve the ways of thinking and perception, improve the ability of each participant, understanding the differences, giving and receiving the feedback , improve your leadership skills, experience team spirit and success, build up relations and use the power of your sensitivity, solve problems by communication and respect, work with constructive criticism, be stronger and more perceptive than the competition, group commitment and be a winner trough integrity and dedication.
For group additional activities Bali Event Travel also offers a rafting, cycling, trekking, camping, that can be combined with team building programs to add extra challenge.
Additional tours can be combined or designed in several ways and special requests can usually be organised. For your next conference, corporate team building event, incentive program or development group booking please contact mice@balieventtravel.com to discuss your groups needs.
Send Inquery
Gallery
USANA Team Building on June 8, 2012